Bus, coach and driver hire in the west of Ireland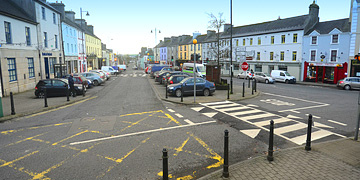 About Us
O'Hara Coaches is a family run coach and bus hire business based in Ballaghaderreen, County Roscommon, close to the borders of counties Mayo, Roscommon and Sligo.
It was first established in 1968 by Eamonn O'Hara, and has steadily grown to a modern fleet of buses and coaches offering regional and national transport for large and small groups of passengers.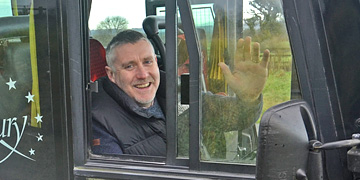 Our Drivers
O'Hara Coaches employs 5 full time professional drivers, each with more than 20 years experience driving passenger vehicles and heavy goods.
All our drivers are fully insured and qualified for Public Service Vehicles (PSV) with both Bus Driving Licences and annual Certificates of Professional Competence (CPC).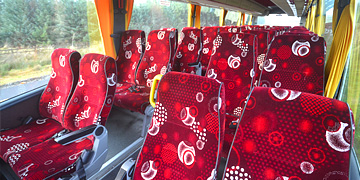 Our Buses
Our modern fleet of buses & coaches ensures that we have a vehicle to suit every need and occassion, with full insurance covering all vehicles, drivers and passengers.
Buses have annual CVRT tests, periodic 13 week tests by authorized test centers including a brake safety test, and comprehensive driver walkaround safety checks of each vehicle before being put into service every day.
O'Hara Coaches is based approximately 20 minutes from Ireland West Airport Knock, and is centrally located for chartered tours and day trips around the west of Ireland.
Our modern bus and coach fleet currently includes:-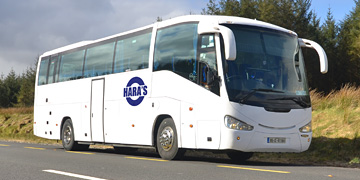 53/55 Seater Coaches
Our largest vehicles are the 53 or 55 seater coaches, which are ideally suited for day trips and longer journeys. Although they do not feature toilets, we always plan in scheduled rest stops with each journey. Our 53 or 55 seater coaches have spacious luggage compartments and lap-strap safety seatbelts as standard.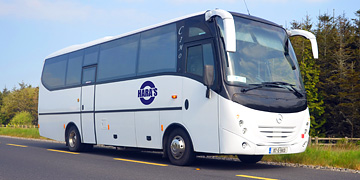 33/36 Seater Buses
Our economical 33 or 36 seater buses are ideal for sports clubs and school trips, and can access areas that a larger 53 seater coach cannot. Our 33 seater buses have a luggage capacity for up to 20 hard suitcases and 3-point safety seatbelts as standard. Our 36 seater bus has additional luggage compartments with more space and 3-point safety seatbelts as standard.
We are most proud of our latest addition to the fleet; a brand-new 33 seater bus with full wheelchair access via a powered lift to the rear.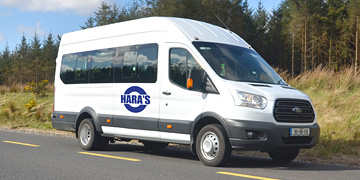 16 Seater Mini-Bus
Our smallest vehicle is the 16 seater mini-bus, which is perfect for airport transfers with overnight bags and school runs. The mini-bus has a smaller luggage capacity for hand luggage only and 3-point safety seatbelts as standard.
Our range of bus and coach services include:-
Scheduled Bus Services
Local Shopping Service
Provided on behalf of Bus Eireann which operates on Fridays, serving Kilmovee, Lisacul and surrounding areas. [Timetable]
Rural Link Service
A community bus service provided on behalf of Local Link which operates Tuesdays and Thursdays, between Ballaghaderreen and Roscommon. [Timetable]
School Bus Services
Provided on behalf of Bus Eireann for local schools in Countiy Roscommon, Mayo and Sligo.
Group Tours & Day Trips
Short Tours & Day Trips
School Tours & Day Trips
Organised Group Shopping Trips
Race Day Outings
Weekend & Extended Tours
Sightseeing
Religious Pilgrimages
Holiday Breaks
Private Hire
Group Airport Transfers
Club & Sports Team Travel
Debs & Graduation Nights
Concerts & Festivals
Wedding Guest Travel
Each of our coaches and buses are available for hire on both a short term or long term basis.
For further information on scheduled bus services, or about bus and coach services to meet your needs, please contact us on 094 986 0057 or oharacoaches@gmail.com for a free, no obligation quote.